THE ROTARY MUSIC SCHOLARSHIP WINNERS RECITAL TOOK PLACE ON FEBRUARY 7, 2021.
JUDGES' BIOS FOR THE 2020 ROTARY CLUB SCHOLARSHIP COMPETITION (Scholarship Details Below)
ROTARY CLUB OF WOODLAND HILLS
SAN FERNANDO VALLEY SYMPHONY ORCHESTRA
THIRD ANNUAL MUSIC SCHOLARSHIP COMPETITION
(Applications now closed for 2020)
A live Zoom competition to benefit all instrumental music students in the San Fernando and Conejo Valleys on
Sunday, January 10, 2021.
Students will perform in recital and must remain for the duration of the assigned program in order to be eligible for an award. Time assignments for each student will be posted on the SFVSO website one week prior to the event.
-- Sorry! Applications are now closed. --
• Junior Division - Students through age 14 (on July 1)
1st prize-$100 - 2nd prize-$75 - 3rd prize-$50
• Senior Division - High school students ages 15 through 18 (on July 1)
1st prize - $300 - 2nd prize-$200 - 3rd prize - $100
• There will be an additional scholarship award of $100 presented to a student performing a composition by Maestro James Domine (music available at:    http://jamesdomine.com/
• Deadline for application and fee is Friday, December 11 at 11:59pm. Please do not submit your application after this time; Late applications cannot be considered.
• Application fees are: $35 – pieces under 5 minutes in duration, $50 - pieces over 5 minutes up to 10 minutes in duration.
• Winners will be announced at the SFVSO Winners Zoom Concert (date tba), All winners must be present at the Winners' Concert in order to receive their awards.
SCHOLARSHIP APPLICATION -- Please check back next year; applications for this year are closed. 
Previous competitions were a great success.  See below for a photo of some of our past winners (all categories), who received a standing ovation from the audience at an Orchestra concert following the competition.: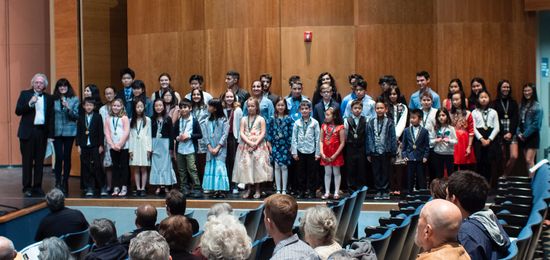 For more information contact Joanna Ezrin or Knarik (Nara) Petrosyan, Competition Coordinators at:
joannaezrinschauer@gmail.com. or narapianostudio@gmail.com 
**Buy from Amazon.com by clicking the icon below; it supports the Orchestra! No extra cost to the purchaser.**
 
Donate to the Orchestra

 The cost of concerts is not covered by tickets alone.
We need your support! Whether large or small - every donation counts.
Thank you!
(The San Fernando Valley Symphony Orchestra is a non-profit 501-c3 organization)